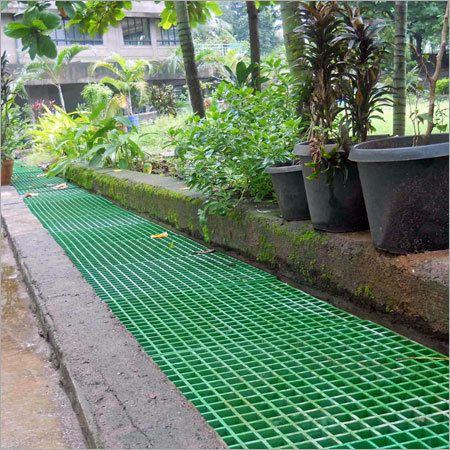 Molded Fiberglass Grating
Price And Quantity
Product Specifications
Rectangle

FRP Pultruded Gratings
FRP

Industrial & Construction
Product Description
With the help of our professionals, we have been able to manufacture, export and supply a high quality collection of Molded Fiberglass Grating. Our offered range is extensively used in various applications such as power plants, chemical plants, refineries, electroplating platform, swimming pool and many more which require non-slip and rugged flooring. Using the sophisticated machines and finest quality fiberglass, this grating is manufactured by our highly proficient craftsmen in conformity with international quality standards. Further, we offer this Molded Fiberglass Grating in various designs, sizes and colors at most economical price range to the clients.
Molded Fiberglass Grating Features:
Superior finish
High compressive strength
Slip resistance
Crack resistance
Industries Using Fiberglass Grating Include:
Bottling Lines
Food Processing Plants
Waster Water Treatment Plants
Lift Stations
Commercial Aquariums
Offshore Platforms
Lube Oil Facilities
Beverage Canning Facilities
Plating Shops
Chemical Plants
Pulp and Paper Plants
Further Details:
Fiberglass Grating is a product of selection where fire and rust resistance is supreme and high effect retardance is essential. When contrasted to steel, this range is extremely light in weight. Molded one-part erection panels have a congenial concave skid resistant stroll surface and are normally cut on the ground. Load tolerable bars in both ways allow for wide usage without constant side aid.
The styles comprises standard rectangular mesh and square mesh configurations in a variation of resins, sizes and colors. In order to increase skid retardance of the ordinary concave base, fiberglass grating is also obtainable with a skid resistant graveled surface.
Do you want to know the difference between fiberglass molded gratings and fiberglass pultruded gratings? The wait is over as we are breaking it down for you so that you can nimbly comprehend the differences.
Pultruded Fiberglass Gratings:
Corrosion resistance – This sort of gratings have strength that of steel but it won't break down and rust alike steel.
Safety – Our range has an epoxy anti-skid covering which increases traction.
Extended life – These gratings can withstand under influential elements of nature. Incorporated resin serve the resilience to the surroundings, (i.e., resistance from rust, UV, impact etc. and the glass caters power as well as protects from flames or fire.
Easy fabrication – A prime benefit of pultruded fiberglass gratings is that the dashboards are lightweight. Thus, they are require less efforts to transport and work with. You can cut and fabricate them in an easy way by using conventional tools or equipment.
Molded Fiberglass Gratings :
Stock – FRP molded grating is acquirable in stock dashboards or we can fabricate to sizes as per your requirements. Besides, we can also engineer and design fiberglass grating systems as well as can make stairs assemblies, platforms, catwalks etc.
Extended life – You do not have to replace old molded FRP grating as you do for other materials. The foremost part is that you do not require to repaint as our molded fiberglass gratings have in-built colors.
Less waste – Intertwined square mesh configuration caters two-way strength, so you can trim the FRP grating to adjust or fit and can make the full utilization of each panel.
Easy fabrication – In order to fabricate industrial walkways and platforms, you simply need to use conventional hand tools to cut the gratings as per your needs.
FRP Molded grating offers a sequence of advantages, unsurpassed impact resistance as compared to other floor materials while the strength-to-weight proportion is hardly one-fourth that of steel grating. It is easy to install and cut. FRP moulded grating is created from constant fiberglass completely soaked in unsodden polyester resin contributing a steady structure and impeccable two-ways mechanical features.
Utilizing various resin attains several property of corrosion-resistant which FRP moulded grating has in higher level. The resins which are used includes Polyester Resin, Vinyl Ester Resin, Orthophthalic And Isophthalic Polyester. Vinyl ester resin offers very high rust retardance.
The base of FRP molded grating can be hollow top, grit top, grit cover, flat top, decorative pattern cover and smooth cover.
Molded Gratings provide:

Chemical Resistance: Through a diversity of resins at our place, it can serve chemical retardance to acids and caustics.
Lighter Than Steel: The Molded Fiberglass Gratings are 1/3 to 1/2 the load of steel gratings as catering the same rigidness.
Impact Resistance: Our range of gratings have much better effect resistance than gratings that of steel.
Fire Retardant: The entire gamut of Molded Gratings are developed to attain minimal of a Class 1 Fire Spread Rating in compliance with ASTM E84 Subway Test (Close to UBC No. 8-1 and UL 723, ANSI/NFPA No. 255). Moreover, we can provide the E84 Flame Spread Rating of whatever product to meet the particular task requirements.
Non-Skid Resistance: All Molded Gratings own the most affirmative anti-slip properties in the market. The non-slippery feature is catered by a secondary application of silica grit or a hollow meniscus contour on head of the bearing bars.
Low Maintenance: Owing to the various features, this range is very easy to install and once you do that then forget about the rest, It will not rust at all!
FRP Moulded Grating Standard Panel
Thickness
(mm)
Panel size
(mm)
Mesh size
(mm)
Bar thick
(mm)
Panel
Wt.per m2
Weight
(Kg)
25
1007x2007
40x40
6.5
12.8Kg
25.8
1220x3660
38x38
6.5
13.4Kg
60
1007x4007
40x40
6.5
12.8Kg
52
1220x3660
25x100
6.5
13.8Kg
62
1220x3660
38x38/19x19
6.5
16.8Kg
75.1


30
1007x4007
40x40
6.5
14.8Kg
60
1220x3660
38x38
6.5
14.7Kg
65.6
1220x3660
38x38/19x19
6.5
18.4Kg
82.2


38
1220x3660
38x38
6.9
18.7Kg
83.5
1007x4007
40x40
6.9
18.8Kg
76
1220x3660
38.1x152.4
6.9
16.0Kg
71.5
1220x3660
38x38/19x19
6.9
23.5Kg
105


40
1007x3007
40x40
7
19.8Kg
60
1007x4007
40x40
7
19.8Kg
79.9


50
1220x3660
50x50
8
21.3Kg
95.1
Trade Information
As per requirement Per Day

2-3 Days