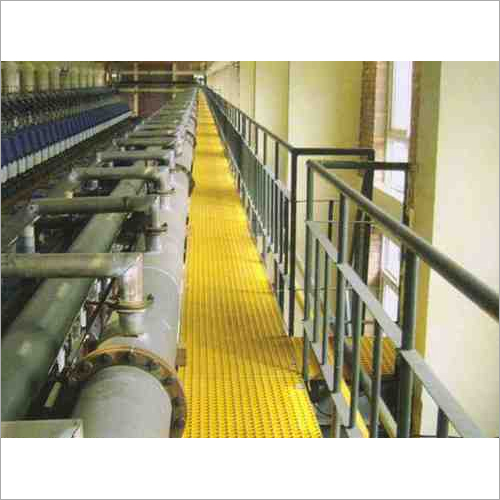 FRP Walkway Grating
Product Description
Our enterprise is specialized in manufacturing, exporting and supplying FRP Walkway. The offered is manufactured under the vigilance of our dexterous professionals using top quality fiber reinforced plastic and contemporary techniques. This walkway finds its application in oil, fertilizer, petroleum, gas, textile and other industries as a working platform. Moreover, our valued clients can purchase this FRP Walkway at cost effective prices. We fabricates, details and designs to your requirements or specification. Our team of engineers draft FRP walkways as per you requirement in respect of work loads, height and width. These are made and assembled in our shops in a proper manner but during transportation or shipment we maximize the size in sections to reduce field installation work.


Fiberglass Reinforced Plastic (FRP) Walkways provide the following advantages:
High resistance to aggressive chemicals and weathering;
High mechanical strength / weight ratio;
Lightness;
Dimensional stability;
High dielectric properties;
No maintenance;
Easy installation.
Impact resistance
Accurate dimension
Slip resistance
Enhanced durability
Applications
Water cycle
Wastewater treatment plants
Waste treatment plants
Chemical industry
Galvanic industry
Extraction industry
Shipbuilding sector
Energy
Manufacturing industry
Food industry
Out-door and tourist harbours

Design
Fiberglass Reinforced Plastic (FRP) Platforms, Stairways and Walkways are designed, manufactured and custom made by using Structural Fiberglass Incorporated (SFI) in compliance with OSHA standards, Section 1910.24, entitled as "Fixed Industrial Stairs".
SFI & FRP Stairways and Platforms are created from pultrusions of fiberglass that have world best fire or flame resistance with ASTM E-84 fire unfurl rating of 25 or lesser.
Web forge Fiber Reinforced Plastic (FRP) gratings are a single piece and molded FRP walkway which is obtainable in quality panels or manufactured into customized panels that are ready for installation.
The one-piece construction and square pattern design permits load to be carried to the abutting bars catering a supreme load-conveying capacity. Further, the transfer of burden supports structure as well as in load distribution on gratings. The 70% of panels comprise smooth resin, tapered bars and rich vertical surfaces that allows all waste to fall through.
The high resin-to-glass proportion serves optimum rust resistance to a broad ambit of chemicals that is subsequently experienced in many industries. The layers of glass-fibre strands and resin are layered alternately to increase the resistance against corrosion.
Specification:
Product Code
Load Bar (mm)
Load Bar Space (mm)
S Kpa
Span (mm)
4 Kpa5mm Def. Span
450
600
750
900
1200








Deflections (mm)


FRP25
25 x 6
38
2.5
0.27
1.03
2.58
6.15
15.51
750mm
3
0.33
1.25
3.1
7.6
18.61
4
0.44
1.67
4.48
9.64


5
0.55
2.37
5.17
11.97


7.5
0.94
3.11
7.76
17.48


10
1.1
4.15
10.34




15
1.74
6.23
15.52




FRP38
38 x 6
38
2.5
0.1
0.27
0.98
1.68
4.7
1050mm
3
0.12
0.32
1.4
2.03
5.64
4
0.17
0.43
1.71
2.7
7.52
5
0.21
0.53
2.02
3.38
9.4
7.5
0.31
0.8
2.81
5.06
14.1
10
0.41
1.06
3.59
6.75
18.8
15
0.63
1.6
5.16
10.13