FRP Pultruded Gratings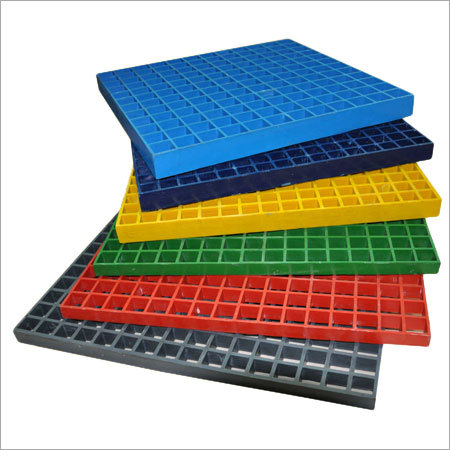 FRP Pultruded Gratings
Price And Quantity
Product Specifications
Square

FRP Pultruded Gratings
Product Description
Since our establishment, we are highly engaged as manufacturer, exporter and supplier of high quality FRP Pultruded Gratings to our valuable clients. Offered gratings are well-suited for pedestrian walkways, platforms and other places where wide support spans and close load bar spacing are required. Provided gratings are manufactured under the stern guidance of our dexterous processionals using optimum grade basic materials and sophisticated techniques in adherence with international quality standards. Our clients can bought these Pultruded Gratings in various colors, shapes, designs and dimensions as per their needs.
FRP Pultruded Gratings Features:
High compressive strength
Longer service life
Smooth surface finish
Able to withstand high pressure
No requirement of regular painting as it comprises in-built color.
Fundamental anti-smooth base in order to prevent falls and slips.
Need minimal structural support and is light in weight.
Easy installation and economical life cycle cost
Can be modified in accordance to the site requirements.
Non-magnetic and voltaically non-conductive.

Field of application:
Walkways, Fencing, Elevated Car Parking, Platforms, Trench Covers, Foot Bridges, Swimming Pool Overflow, Staircase, Floorings, Step Treads, Earth Pit Covers
Chemical, Food & Beverage, Buildings, Constructions, Marine, Oil & Gas, Power, Industry, Pulp & Paper, Recreation, Pharmaceuticals, Water & Waste Treatment, Shipping, Architectural, Telecommunications
It is versatile in nature, thus, it can be used as platforms, ramps, walkways, packing support in scrubbers, floors, stairs, trench covers, battery racks, false bottom in filter tanks etc.
Some of the ordinary usages in various industries comprise:
Suspended flooring in Chemical Industry.
Walkway in Food & Beverages.
Drain cover and walkway in Sewage Treatment Plant.
Ramps, staircases & floors in Pulp In Paper.
Work platform in Automobile.
Walkways in Minerals And Metals.
Screens over electrical tools for additional protection in General Use.
Platforms, stairs, walkways and many others in Off Applications.
Further Details:


Pultruded Gratings are developed by arranging pultruded cross rods & beams. The extent between cross and beam relies on several duty situations, therefore, these grating caters best solutions for severe problems of rust in industrial surroundings.
Amalgamating properties like durability, low maintenance and corrosion retardance, pultruded grating systems are much better than prevailing metallic gratings. Further, FRP pultruded grating is manufactured with a break tie bar model which can be fabricated in a simple manner due to its light weight. Frequent savings on equipment and staff makes the average installation charge of our grating systems almost the same to the steel ones. Our gamut of gratings are designed for optimum utilization on large scale for modern applications that require rust resistance and quality.
FRP Pultruded Gratings Specification:
Platforms, stairs, walkways and many others in Off Applications.
| | | |
| --- | --- | --- |
| I-Beam Size | Cross Rod Distance | Recommended |
| 25mm | 10kg/mtr. | 300kg/Sq.mtr. |
| 25mm | 12kg./mtr. | 400kg/Sq.mtr. |
| 25mm | 15kg/mtr. | 400kg/Sq.mtr. |
| 40mm | 18kg/mtr. | 750kg/Sq.mtr. |
| 40mm | 25kg/mtr. | 750kg/Sq.mtr. |
| 40mm | 30kg/mtr. | 1000kg/Sq.mtr. |
| 40mm | 40kg/mtr. | 1500kg/Sq.mtr. |
| 40mm | 45kg/mtr. | 2500kg/Sq.mtr. |
| 40mm | 50kg/mtr. | 500kg/Sq.mtr. |