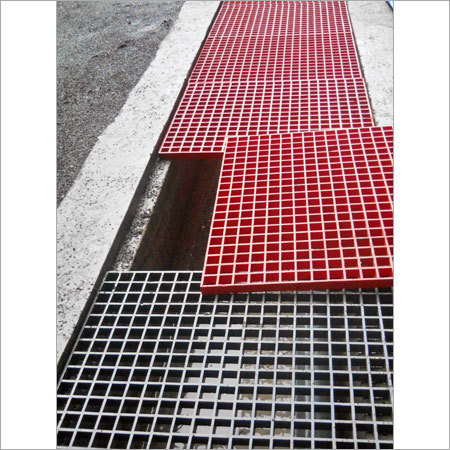 Product Description
Following the defined ISO 9001:2008 parameters, we manufacture, export and supply a qualitative assortment of Fiberglass Gratings to our valuable clients. Proposed gratings find their application in floor systems, walkways, work platforms, stairs, ramps, trench covers, catwalks and many other places that require long-lasting anti-slip flooring. These gratings are designed and manufactured with utmost precision using premium grade fiberglass and modern methodology in tandem with international quality standards. To meet the wide demands of clients, we are offering provided Fiberglass Gratings in various designs and dimensions at most reasonable prices.
Features:
Light weight
Impact resistance
Clean finish

Scratch resistance
Application

Water Trench Cover, Cooling Tower Area, Platforms, Boiler Area, Walkways/Walk Paths, Step Treads

Features of FRP Gratings:

Chemical Resistance, Corrosion Free, Fire Retardant, Maintenance Free, Non Conductive, UV Resistance, Anti-skid surface, Long Life, No Colour Fading

Further Details:
Our Fiberglass Shaped Gratings are chiefly designed by using premium quality material systems to provide best possible productivity without restricting on global quality detailing. These are portable and can be instantly created and structured.

The customers can obtain FRP grating range from us at economical prices. Further, our range has minimal servicing and set up costs as compared to metal ones. They are not resistant to materials and the UV stabilizer assures optimum performance in contrast to standard substances particularly timber. We also cater customized Fiberglass Grating to our clients on their special demand. You simply have to mention your requirements to us and we are all set with newly commercial options for you.

Corrosion Resistant
In chemical exposures and harshest surroundings, our range of Fiberglass Reinforced Plastic (FRP) products are well known for their potential to cater corrosion resistance. Unalike wood and metal, FRP products do not corrode or rust due to their nature and they will extend to keep structural probity over time.

We also offers broad array of resin formulations for various applications which are especially designed to tackle particular performance and environmental requirements.

Low Maintenance
The corrode resistance and long life span of FRP and other allied products evict the needs for hefty maintenance such as scraping, sandblasting and painting. Indeed, mostly all fiber grate products are nimbly cleansed under high-pressure washer.

Resistant to Slip
Our pultruded and molded gratings cater premium, slip retardant footing in oily and wet conditions. Steel becomes lubricious when it is wet or oily whereas fiber gratings comprises higher friction aspect which remains safe even in slippery situations. These properties of our products increase the level of safety for workmen which eventually minimizes the possibilities of accidents or injury-related costs.

Durability
Our product range provide improved life above conventional materials in demanding applications due to its higher durability and corrode resistant. Therefore, it caters cost saving atop the life cycle of the product. The installation cost is much less because of the proficiency of fabrication. Further, owing to the durability, investment in maintenance is reduced as cost of replacing, disposing and removing the rusted steel grating is evicted.

Low Fabrication Cost
Fabrication of steel can be equipment intensive and time consuming whereas our product can be instantly cut with conventional hand tools and installed with lips and bolts. Hot work or welding is not required with FRP products. Due to the light weight of our gamut, it can be installed without utilizing hefty machinery and equipment which also eliminates the number of manpower required.

High Strength-to-Weight Proportion
Our range of FRP products have high power-to-load ration when contrasted with ordinary materials like wood, metal and concrete. The FRP gratings can be drafted to be powerful enough to convey vehicular burdens while yet being under one-half the load of steel grating.

Impact Resistant
The catered range of FRP can stand under crucial impacts with minute or no damage. These are extensively durable to fulfill even the most vigorous influence requirements. Watch out the drop trial video to determine how strong and durable our molded gratings are!

Lightweight
Our FRP products are light in weight as compared to the weight of steel. The solidity of steel is 4 times notable than of FRP and Steel gratings are 2 to 2.5 times laden than FRP gratings. The light weight property of FRP allows simple removal for entry beneath floor level. This attribute also diminishes the cost regarding installation and transportation.

Thermally & Electrically Non-Conductive
Our FRP gamut is thermally non-conductive which leads to enhanced safety level as juxtaposed to conductive goods like metal. Other than this, FRP products naturally have low electric conductivity (heat transit happens at a lesser rate), which results in much pleasant surface when tangible contact take place.

Fire Resistance
The complete range is engineered to have a fire spread of 25 or lesser as checked as per ASTM E-84. Besides, they also satisfy the self-dousing necessity of ASTM D-635.

Ergonomic
The featured of FRP materials help to create supple products that sometimes provide cushion surface for workers to perform tasks, relieve injury on workmens' muscles and making a much suitable or comfortable working base. Our products have ergonomic features like he Safe-T-Stand® work platform that reduces the fatigue of workers and improve productivity.

UV Resistant
Our fiberglass profile and gratings are created for optimum UV resistance. A unique covering is also accessible for enhanced UV retardance on ladder systems and railing.

Comparison of FRP Gratings:
| | | | |
| --- | --- | --- | --- |
| Properties | FRP (Fibre Reinforced Plastic) | Mild Steel | Galvanised Iron |
| Corrosion Resistance | Excellent | Low | Low |
| Acid Fumes Resistance | Excellent | Low | Moderate |
| Electrical conductivity | Low | High | High |
| Fire Retardant | High | High | High |
| Chemical Resistance | Excellent | Low | Low |
| Strength to Weight ratio | Excellent | Low | Good |
| Life Cycle Cost | Low | Moderate | Moderate |
| Ease in installation | Excellent | Moderate | Moderate |
| Environment Impact | Low | High | High |
| Cost | Medium | Low | Low |